Fusiion Software Services
In the 21st century, no business can compete without proper investment in technology. We know first-hand that for many companies investment in technology is a major operating expense. Getting the job done right is a top priority for reducing costs and achieving greater business efficiency.
Fusiion offers four key components to our customers: First, an extensive strategic evaluation of your current software; Second, a plan for building efficient, cost effective software for achieving greater ROI; Third, because technology is ever changing, we offer follow-up yearly assessments to our customers with a 5% discount on recommendations on new functionality or needed updates, if done within 6 months of the assessment; Fourth, exceptional services and support at a practical cost to your business.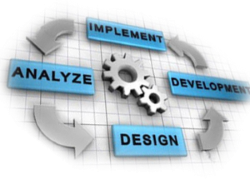 Have A Business Need
With over 30 years of application development experience, our team approaches application development with the utmost professionalism by working closely with our customers. We carefully define the scope and specifications of the project up-front, not after the job is done and costly expenses have been added on.
Successful application development starts before the code is even written. Fusiion helps you develop the right mix of leadership and project management. Additionally, Fusiion provides complete turnkey systems solutions for your business.
Application Feasibility Analysis
Investment in Technology is one of the best investments a company can make; it is key to improving products, services, and gaining a competitive edge. Fusiion, specializes in improving application business platforms, while being honest and open about the exact return one should expect.
Fusiion will provide a complete feasibility study on new or enhanced requirements. Additionally, Fusiion will provide an impartial view of the benefits and return to the company's existing applications.
Technology Consulting
At Fusiion, we realize that your business is unique, and so are your technology needs. Your technology should be able to meet your current and future business needs without costing your business a fortune. Regrettably, many businesses believe that the only path to meeting new business challenges is to replace their existing systems, which can be unnecessary and costly to your business.
We know technology decisions can reach all levels of a corporation. Fusiion provides end-to-end technology services. We will work with your existing technology platform to minimize costs and improve efficiency in your business. Let Fusiion help you mitigate these risks by building a successful technology pathway for your company.